Patient Forms, Map and Directions to Algonac Office
Your first visit to Giuliano & Giuliano DDS will be set so that we can get to know you. To understand what to expect, please read through this page. You'll find all the practical information you need, and forms that can be printed. You can save some time by printing out and completing the patient forms in advance of your appointment and please bring a list of your current medications .
If the patient is an ADULT , your first appointment will be with one of the DOCTORS. We will go over the forms you have filled out, take a full set of x-rays (if a current set is not available), and perform a comprehensive examination with intraoral pictures to share with you. We will discuss the treatment plan and set your next appointments based on the diagnosis.
If the patient is a CHILD (under age 18), your first appointment will be with the HYGIENIST. We will go over the forms, take x-rays (if a current set is not available and depending on age), clean your teeth, perform a comprehensive examination and maybe apply fluoride depending on age. It is recommended that a child's first appointment be set when their baby teeth start to erupt.

---
Patient Forms
Please print and fill out these forms so we can expedite your first visit:

Patient Registration
Medical History
Office Policies
Acknowledgement and Consent Form
HIPAA Notice of Privacy Practices


In order to view or print these forms you will need Adobe Acrobat Reader installed. Click here to download it.
---
What To Expect
Being well-prepared for your appointment will ensure that the doctor has all of the needed information to provide the best possible care for you. It also will help relieve any unnecessary anxiety you may be feeling. Educate yourself on your symptoms by reviewing the content on this Web site. Also, take some time to review our staff page and familiarize yourself with the doctors. We look forward to your first visit.
---
Driving Directions
We are located at 626 Michigan Street next to the Algonac Chiropractor Center (old Perfect Touch Salon) on the corner of Liberty St. and Michigan. Watch for this sign at the street.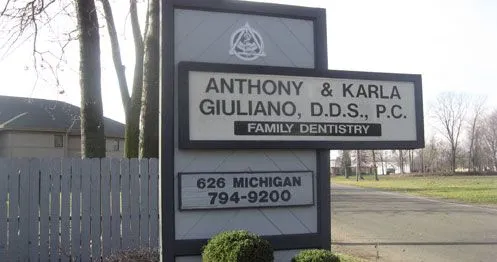 --
mi
Giuliano & Giuliano DDS PC
Address
626 Michigan St
Algonac, MI 48001-1545, US